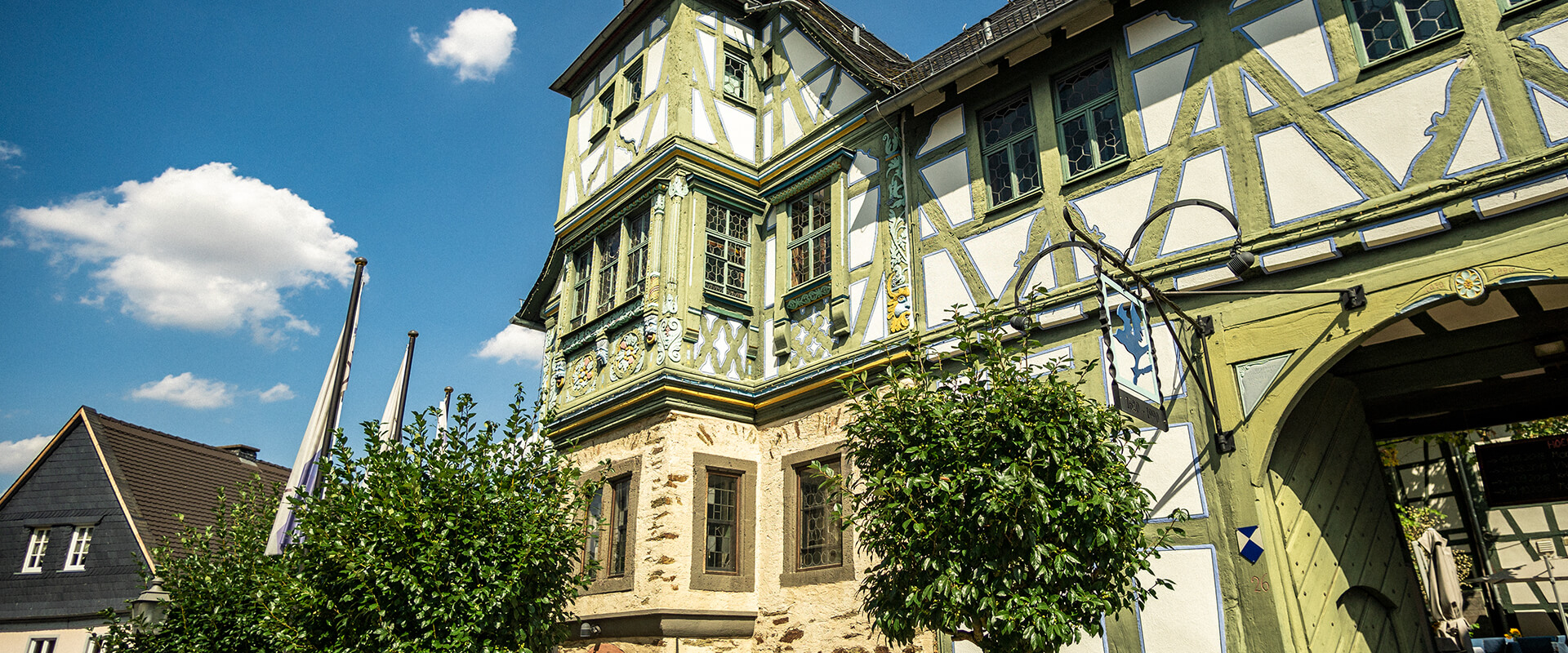 Imprint
Company information
Kogge-Brockmann GmbH
Obergasse 26
65510 Idstein im Taunus
Germany
Managing director authorized to represent:
Vivian Kogge
Registered court: Wiesbaden district court
Register number: HRB 21876
Mandatory information according to Regulation (EU) No. 524/2013 of the European Parliament and Council:
Link to the website of the European Commission's online dispute resolution center: ec.europa.eu/consumers/odr/ – further information is available there. For initial questions about a possible dispute settlement, we are available at info@hoerhof.de.
PRIVACY NOTICE / DATA SECURITY
The protection of your personal data during the collection, processing and use during your visit to our homepage is very important to us. Your data is protected in accordance with legal regulations. You can find the legal basis for data protection in the Federal Data Protection Act (BDSG) and the Telemedia Act (TMG).
A.   Responsible for data processing
Responsible for data processing on this website in accordance with Art. 4 No. 7 GDPR and provider of the website (service provider) within the meaning of the Telemedia Act (TMG) is:
Kogge – Brockmann GmbH
Obergasse 26
65510 Idstein
Complete information according to § 5 TMG (imprint)
Below you will find information on what data is collected during your visit to the homepage and how it is used:
B.    Purposes and legal bases for the processing of personal data
We process your personal data in accordance with the provisions of the EU General Data Protection Regulation (GDPR), the new Federal Data Protection Act (BDSG-new) and all other relevant laws for the following purposes and based on the following legal basis:
1.   In order to fulfill the accommodation contract, reservation inquiries and reservations must be processed and managed so that nothing stands in the way of rendering the services, including the processing of your hotel stay and payment processing. (GDPR Art. 6 Abs.1S.1 lit.b)
Here we also refer in particular to Section 30 (2) of the Federal Registration Act, in which the guest undertakes to record certain personal data in the registration form.
2.   To fulfill a legal obligation to which the service provider is subject; e.g. Registration Act, Tax Act, Accounting Duties – etc. (GDPR Art. 6 Para. 1S1 lit. c)
3.   To send our newsletter including the management of your subscription (GDPR Art. 6 Para. 1S1 lit. a)
4.   For internal, system-related and statistical purposes, as well as for security and optimization of the offer. (GDPR Art. 6 Para. 1S1 lit.f)
5.   For direct advertising for our offers and services. (GDPR Art. 6 Para. 1S1 lit.f)
6.   Our obligation to guarantee the guest a safe stay in our house, as well as the enforcement of our material and intangible claims and the exercise of our rights ensue from the observance of the house right, the prevention and investigation of criminal offenses, the assertion and defense of legal claims, as well as Perception of interests in legal disputes. (GDPR Art. 6 Para. 1S1 lit.f)
Minors – Minors may not submit personal information to us without the consent of their legal guardians.
C.   Collection and processing of data
Every access to our homepage and every call of a file stored on the homepage are logged.   The storage serves internal system-related and statistical purposes, as well as the security and optimization of the offer.   The following are logged: name of the file accessed, date and time of access, amount of data transferred, notification of successful access, web browser and version, the user's operating system, referrer URL (the page previously visited).   Additionally, the IP addresses of the requesting computers are logged.   Further personal data is only recorded if you provide this information voluntarily, for example in the context of an inquiry or registration.
D.   Use and disclosure of personal data
Only those positions in our company are given access and access to their data that they need to fulfill their contractual and legal obligations.
Insofar as you have provided us with personal data, we only use it to answer your inquiries, to process contracts concluded with you and for technical administration. Your personal data will only be passed on to third parties or otherwise transmitted if this is necessary for the purpose of contract execution, this is necessary for billing purposes or you have given prior consent or there is a legal obligation to public bodies and institutions (e.g. tax authorities, law enforcement authorities). .
E.   Rights of the data subject, as well as the right to information
You have the right to withdraw your consent at any time with future effect.   The stored personal data will be deleted if you revoke your consent to the storage, if your knowledge is no longer required to fulfill the purpose of the storage or if its storage is inadmissible for other legal reasons.
The legal basis for the rights of data subjects can again be found in Art. 15th, 16th, 17th, 18th, 20th and 21st GDPR –
Upon written request, we will be happy to inform you about the data stored about you.   Security note: We endeavor to save your personal data by taking all technical and organizational options so that they are not accessible to third parties.   When communicating by email, we cannot guarantee complete data security, so we recommend that you send confidential information by post.
If there is a complaint, you can also contact the data protection supervisory authority in accordance with Art. 77 GDPR in conjunction. m. § 19 BDSG apply.
F.   Duration of storage and criteria for determining the duration of your personal data
Your personal data will be stored and processed for as long as is required by our contractual and legal obligations. Tax law (AO) and commercial law (HGB) retention periods stipulate how long your data must be kept – here there are retention obligations between 2 and 10 years according to the law, which we must comply with.
G.   Email newsletter
With our HÖERHOF newsletter we regularly inform you about our offers and services.   If you would like to receive the newsletter, we need a valid email address from you.   The registration for the newsletter takes place via our homepage via which you can simply register or unsubscribe.   You will receive a confirmation email from us for every promotion.
When you register for the newsletter, we save your IP address and the time of registration or confirmation.   Due to this procedure, we can clarify possible misuse of your data.
You can revoke your consent to the storage, processing and sending of the e-mail newsletter at any time.   The revocation can be made via a link in the newsletter itself or via the homepage (https://www.hoerhof.de/kontakt/newsletter/) or by sending a message to info@hoerhof.de.
Cookies
Our website uses cookies.   A cookie describes a small text file that is saved locally on the user's computer when visiting a website.   This file stores data about the behavior of the user.   If the browser is called and the corresponding website is visited repeatedly, the cookie is used and provides the web server with information about the surfing behavior of the user using the stored data.
These are not programs that can cause damage to the user's PC. Personal data are not saved.   The information cannot be assigned to a specific person.
You can also deactivate the storage of cookies via the settings of your browser.   For more information, please refer to the help function of your internet browser.
Integration of services and content from third-party providers (e.g. GoogleMaps)
Third-party content is integrated into our website. For the use of such content, the transmission of the user's IP address to the respective third party provider is required for technical reasons. – We have no influence on whether a third-party provider continues to use the IP address.
Analysis tools
Analysis tools (web tracking) is the collection of data and its evaluation with regard to the behavior of visitors to websites.   An analytical tool typically examines where visitors come from, which areas of a website are visited and how often and for how long which subpages and categories are viewed.   Our analysis tools are mainly used to optimize the website and to better achieve the goals of the website (e.g. frequency of visits, increase in page views, orders, newsletter subscriptions) as well as statistical purposes.   The tracking measures listed below and used by us are carried out on the basis of Article 6 (1) (1) (f) GDPR.
Web tracking
This website uses the "Google Analytics" service, which is offered by Google Inc. (1600 Amphitheater Parkway Mountain View, CA 94043, USA) to analyze website usage by users.   The service uses "cookies" – text files that are stored on your device. The information collected by the cookies is usually sent to a Google server in the USA and stored there.
IP anonymization applies to this website.   The user's IP address is shortened within the member states of the EU and the European Economic Area.   This shortening eliminates the personal reference to your IP address.   As part of the agreement on the order data agreement that the website operator has concluded with Google Inc., the website operator uses the information collected to evaluate website usage and website activity and provides services related to internet usage.
You have the option of preventing the storage of cookies on your device by making the appropriate settings in your browser.   There is no guarantee that you will be able to access all functions of this website without restrictions if your browser does not allow cookies.
You can also use a browser plug-in to prevent the information collected by cookies (including your IP address) from being sent to Google Inc. and used by Google Inc.
You can download and install this tool from the available browser plug-in under the following link (http://tools.google.com/dlpage/gaoptout?hl=de).
Further information on the terms of use and data protection at Google Analytics can be found at http://www.google.com/analytics/terms/de.html or at https://www.google.de/intl/de/policies/
Social media plug-ins
Social media plugins connect our website, our blog or the app with social networks such as Facebook, Twitter and Google Plus (here providers).   These providers use their user profile and their stored data for the purpose of advertising, market research or the needs-based design of their own website.   Such an evaluation is also carried out for users who are not logged in to display needs-based advertising and to inform other users of social networks about your activities on our website.
You have the right to object to the creation of these user profiles,  but to exercise this you must contact the respective plug-in provider as listed below.   Via the plug-ins, we offer you the opportunity to interact with social networks and other users, so that we can improve our offer and make it more interesting for you as a user.   The legal basis for the use of the plug-ins is Art. 6 para. 1 sentence 1 lit. f GDPR.
The data is passed on regardless of whether you have an account with the plug-in provider and are logged in there.   If you are logged in with the plug-in provider, your data collected from us will be assigned directly to your existing account with the plug-in provider.   If you press the activated button and e.g.   For example, if the page is linked, the plug-in provider also stores this information in your user account and shares it publicly with your contacts.
Facebook
Our website uses social plugins (plugins) from the social network facebook.com, which is operated by Facebook Inc., 1601 S. California Ave, Palo Alto, CA 94304, USA.   The plugins can be recognized by one of the Facebook logos or are marked with the addition "Facebook Social Plugin".
Examples at: https // developers.facebook.com / docs / plugins /.
When a user calls up a page on this website that contains such a plug-in, his browser establishes a direct connection to the Facebook servers.   The content of the plug-in is transmitted from Facebook directly to the user's browser,  which integrates it into the website.   The provider therefore has no influence on the amount of data that Facebook collects with the help of this plugin.   According to the provider's current state of knowledge, Facebook does the following:
By integrating the plugins, Facebook receives the information.   That a user has accessed the corresponding page of the provider's website.   If the user is logged into Facebook, Facebook can assign the visit to their account.   When users interact with the plugins, e.g.   For example, to confirm the so-called Like button or to leave a comment, the corresponding information is transmitted from the user's browser directly to Facebook and stored there.
If a user is not a member of Facebook, there is still the possibility that Facebook will find out and save his IP address. According to Facebook, only an anonymized IP address is saved in Germany.
The purpose and scope of the data collection and the further processing and use of the data by Facebook as well as the related rights and setting options for protecting the privacy of users can be found in Facebook's data protection information: https://www.facebook.com/about/privacy/ .
If a user is a Facebook member and does not want Facebook to collect data about him via this offer and link it to his member data stored on Facebook, he must log out of Facebook before visiting the website.
It is also possible to block Facebook social plugins with add-ons for your browser, for example with the "Facebook Blocker".
Twitter
Our website includes functions of the Twitter information service, an offer from Twitter Inc., 1355 Market Street, Suite 900, San Francisco, CA 94103, USA (hereinafter: Twitter).
By using Twitter and the Re-Tweet function, the websites you visit are linked to your Twitter account and made known to other users.   This data is also transmitted to Twitter.
We would like to point out that, as the provider of the website, we have no knowledge of the content of the data transmitted or of how it is used by Twitter.   Twitter is certified under the Privacy Shield Agreement and thus guarantees that it will comply with European data protection law.
You can find information on data protection at: https://twitter.com/de/privacy
For personalization at: https://twitter.com/personalization
+1 button from Google+
The "Google 1+ button" is integrated on our website.   This feature is provided by Google Inc., 1600 Amphitheater Parkway, Mountain View, CA 94043, USA.
The button can be recognized by the "+1" sign on a white or colored background.   If a user calls up a website of this offer that contains such a button, the browser establishes a direct connection to the Google servers.   The content of the "+1" button is transmitted by Google directly to its browser, which integrates it into the website.
The provider therefore has no influence on the amount of data that Google collects with the button.   According to Google, no personal data is collected without clicking the button.   Such data, including the IP address, is only collected and processed if members are logged in.   If you want to prevent personal data from being transmitted to Google 1+, log out of Google 1+ before visiting this website.
You can also find more information on Google's information pages: http://www.google.com/intl/de/+/policy/+1button.html
Update of data protection information
This data protection notice applies from May 24, 2018
We update the data protection information when there are innovations, changes on our homepage, as well as in the data protection law.   In the event of changes, we will inform our guests in good time by notifying our website